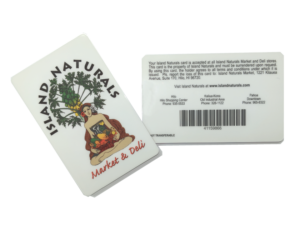 Be rewarded for eating healthy! Whether you come in for lunch now and then or do all of your shopping at Island Naturals, it makes sense to sign up for our free rewards program!  Signing up is easy, free, and takes two minutes just ask a cashier for an application next time you stop by any of our three locations.
You can start earning points as soon as you sign-up. After that, present your Island Naturals Reward card or give your last name or phone number to the cashier anytime you shop and earn points on all your purchases!  Earn points for every dollar you spend at any Island Naturals store*. When you have spent $250, you'll get $5 off!
Earn points even on sale items. We keep track of your points and reward dollars can be redeemed as soon as you've earned them. Our rewards program is green and paperless – no waiting for those postcards in the mail. Every dollar counts when it comes to earning your rewards!
Looking for grocery specials or grocery coupons?
*Per Hawaii law beer and wine purchases do not earn points.